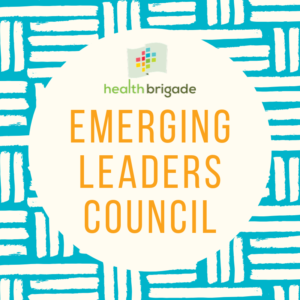 The Health Brigade Emerging Leaders Council will be comprised of young professionals and community leaders who are passionate supporters of public health within the Richmond metropolitan area. Members of the Council act as ambassadors for Health Brigade by fundraising, supporting agency initiatives and engaging with the community to make a difference.
Membership Commitments
— Regularly attend council meetings 4 times annually (in person or by phone)
— Participate in and actively raise funds for Health Brigade events, including this year's 50th Anniversary Community Event and our annual fundraising event, Brigala
— Actively participate on at least one committee (communications, events, or community outreach)
— Give or get $50 in annual give or get council member fundraising dues
— Represent Health Brigade in the community through volunteerism and outreach
Membership Benefits
— Networking opportunities with Health Brigade staff, Board members, and other supporters as well as community experts in public health programming and advocacy
— Exclusive opportunities to attend Health Brigade events
— Skill development opportunities in leadership, event planning, fundraising and outreach
— Recognition on Health Brigade's website and in Health Brigade's Annual Report
— Most importantly, the chance to make a difference in community health initiatives in Richmond and beyond
Interested in Joining the Emerging Leaders Council?
Complete an Interest Form by November 15, 2019. A member representative will contact you.